Moon Princess Slot Games have taken the online gambling industry by storm, with their unique themes and exciting gameplay.! This video slot games features a Japanese anime-inspired princess who uses ther magical powers to help players win big. The game that showcases the rich history and traditions of Japanese culture by immersing players in a captivating and mythical tale , With several editions of the game available, each with its own unique features and bonus rounds, it's important for players to know the differences between them before choosing which one to play. An overview of all the available editions of Moon Princess Slot Games, highlight their key features, and provide tips and strategies to help you win more.
These Online Slot Machine are visually stunning game that takes players on a journey through the stars. It uses a 5×5 grid system, dropping 25 symbols with each spin for more chances to win. The game has wild substitutions and cascading moon princess symbols, among other features. Inspired by the creative anime scene in Japan, it promises a unique and entertaining online experience.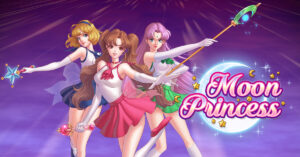 Moon Princess. Classic. Girl Power is a feature in the slot game where, on initial spins where there are no winning combinations, one of the princesses will trigger their unique power. Love changes matching symbols into a different type, Star adds one or two Wild symbols, and Storm removes two symbol types. There is also a Clear Grid Prize which awards x50 the player's total bet if the entire grid of symbols is cleared.
Moon Princess Christmas Kingdom. Love transforms matching symbols into a different symbol, Star adds Wild symbols, and Storm removes two types of symbols. The game also has a Clear Grid Prize where clearing the entire grid awards x50 the player's total bet with a multiplier. The game has a Christmas theme, but remains the same as the original game.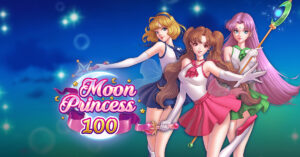 This Moon Princess 100 edition has been updated with more opportunities to win. The game now has a multiplier and 100 free spins instead of 20. When players clear the grid of symbols, they can win the Clear the Grid Prize which pays out x50 the total bet.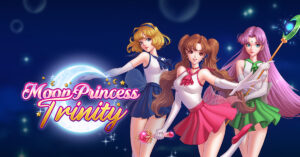 And the Latest , Moon Princess Trinity. The win multiplier starts at x1 and increases by +1 if the grid is cleared. The Girl Power feature is randomly triggered on winning spins and the princesses Love, Star, and Storm use their powers on the grid to maximize cluster potential or add Wild symbols. The Trinity feature is triggered by filling the meter with high-paying wins and awards one free round where three princess abilities are performed in a row. If the grid is cleared, another round is re-triggered where the multiplier does not reset, and wins are tallied until a big prize is won.
"If you're looking for an unparalleled gaming experience like these ones, then you have come to the right place! Our gaming platform offers the widest and most diverse games portfolio. Send us a message and be the game changer!"