Welcome to the ultimate summer gaming experience! Step onto a tropical beach, where you'll find the gentle meeting of soft, white sands and the azure sea. The air is filled with the delightful fragrance of succulent fruits. Designed especially for those scorching summer days, this seasonal adventure will transport you to a realm of absolute relaxation, where the soothing harmony of crashing waves and the serenading calls of seagulls caresses your senses.
Shark Frenzy is a slot game played on a 5×6 game grid, where symbols pays anywhere on the reels. Winning combinations are removed from the reels and trigger an avalanche effect. Each avalanche effect during one pain in the bonus Game increases the multiplier value by 1 up to infinite! Multiplier value resets at the start of each new spin. Multiplier value can also be increased by the value which could be won from the mystery box.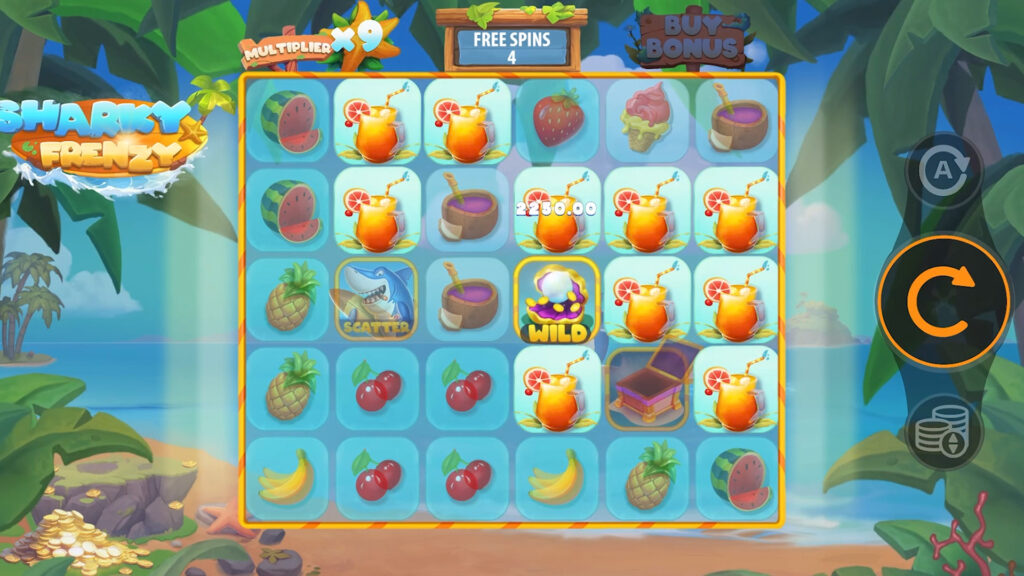 Exciting wins await with every spin, promising to satisfy your thirst for excitement. But there's more! Beyond the shoreline is where the true enchantment unfolds! Meet the coolest surfing shark, whose cheerful grin will be your companion on this sweltering summer day. This fin-tastic friend can even grow larger, unleashing even more satisfying wins and unlocking free spins for greater rewards!
Prepare for an electrifying cascade of multipliers and keep an eye out for the mysterious boxes that conceal a range of fantastic summer surprises. So, grab your sunglasses, soak in the summer vibes, and let your new sharky friend guide you to a season of enjoyment and abundant rewards in this sun-soaked paradise!
Make the most of this summer by making endless earnings alongside your newfound companion, Sharky, in an exciting slot machine game that guarantees your enjoyment. Don't delay any longer – seize the opportunity and acquire this game today. Reach out to us immediately! Contact us now!