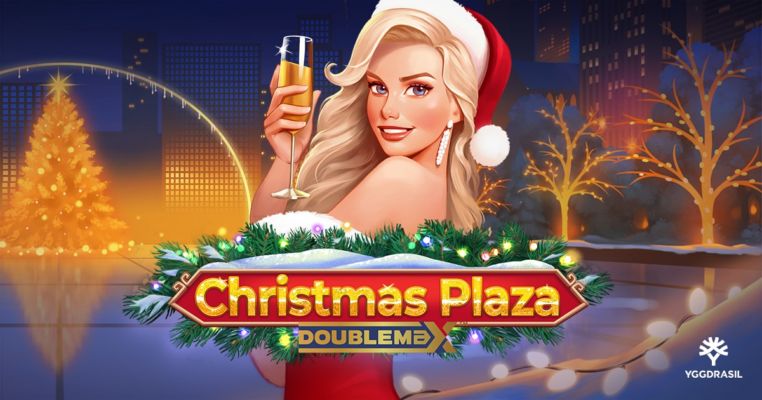 It's time to embark on a Christmas adventure and win big in the form of New Year's gifts with the Christmas Plaza Doublemax slot machine. This slot was created by Yggdrasil and has been available since December of, 2022. Aside from snow, gifts, and decorations, players are looking forward to exciting features such as progressive multipliers, free spins with corresponding gambling options, and much more. Join this holiday season with our review, and in addition you will learn about many interesting features, RTP, and volatility of this slot machine.
Christmas is still around the corner, and what could be better than to plunge into the holiday atmosphere by playing Christmas Plaza Doublemax for real money. To increase the chances of winning, even more, take advantage of their bonuses, such as free spins. Start your Christmas holidays with Christmas Plaza Doublemax, and experience the true gift of Christmas.
CHRISTMAS PLAZA DOUBLEMAX RTP AND VOLATILITY
With an excellent RTP and a very high volatility game , Players can brace themselves to Win Big for a Merrier Holiday Season !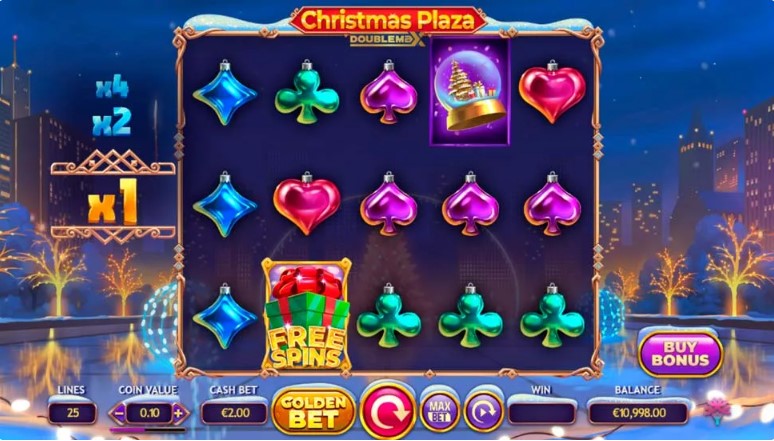 The game is set in a festive evening square, complete with Christmas decorations and smooth sound effects. The theme is bright and festive, with winter colors. The design is colorful and appealing, with plenty of festive decorations and fireworks to get you in the holiday spirit! The gameplay is smooth and seamless, which contributes to the festive atmosphere.
In this festive slot, players will find a variety of New Year symbols. Four high-paying game symbols, for example, a bottle of champagne, Christmas candies, a snow globe with a Christmas tree, and a festive bell, will provide players with multipliers ranging from 0.3x to 5x bet per line.
In turn, four low-paying symbols in the form of Christmas toys will award players with winnings ranging from 0.1x to 1.2x their bet per line.
This game also includes a Wild symbol in the form of a lovely blonde, which replaces all symbols except the free spins symbol.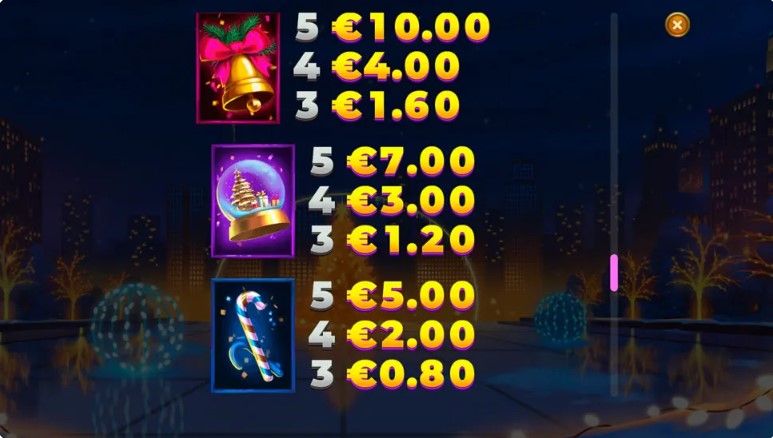 MOBILE COMPATIBILITY
Christmas Plaza Doublemax is a truly mobile gaming experience that is compatible with both iOS and Android devices. Players can spin the New Year's reels and take advantage of their chance to win big with a single touch of a finger. To ensure smooth gameplay on small screens, the game employs cutting-edge technologies. The mobile version of this slot brings all the fun of playing in a traditional casino right into the palm of your hand, with festive graphics and smooth animation. Players are no longer restricted to their computers; they can now enjoy the thrill of the gambling wherever they go. The Christmas Plaza Doublemax slot machine demonstrates that mobile games are the future.

BONUS ROUNDS & FREE SPINS
Dropdown
It starts when a winning line falls and after that, the winning symbols are removed from the playing field. Then a wild symbol appears in one of the empty spaces, and the remaining dropdown symbols fill in the rest. In addition, each dropdown list doubles the winning multiplier. This process is repeated until the player receives a new win. The win multiplier starts at 1x and returns to 1x between paid spins.
Free Spins
The player receives 7 free spins after collecting three free spins symbols. Getting four free spins symbols awards the player with ten free spins. If a player matches 5 free spins symbols, he will be awarded 13 free spins. The reel multipliers will not reset between spins. The same bet as the activating spin is used to play the free spins.
Gamble
Players can earn more free spins during the free spins round. A bet on 10 free spins has a 50/50 chance of winning. The 13 free spins bet has a 50/50 chance of winning.
Multipliers
A dropdown win by a player doubles the game's total multiplier. In the base game, the multiplier is reset after each losing spin or drop. The multiplier is not reset during the free spins round.
Golden Bet
The golden bet allows players to increase the cost of a spin by 25% while also doubling the probability of triggering free spins.
Yggdrasil 's Christmas Plaza Doublemax
Bonus Buy
Players can also purchase bonuses by clicking the "Buy Bonus" button. For a 100x bet, a player can purchase 7 free spins.
The game has an incredible maximum win of 20,000x!
It is essential to remember when playing the Christmas Plaza Doublemax slot machine to maximize your winnings. Players need, to make sure to bet the maximum amount allowed on each spin. This increases your potential payouts and gives you more opportunities to activate special features that can multiply your winnings. Keep an eye out for special symbols such as Wild symbols as well. They can be used to replace other symbols, increasing your chances of winning big. Don't forget to take advantage of the casino's bonus or golden bet options, which can significantly increase your winnings.
Have more chances to hit a big jackpot in the Christmas Plaza Doublemax slot machine!
See Full Video: Christmas Plaza DoubleMax